Sie vereinte in 40 Minuten all das, was die Fans der FontShop-Konferenz seit 16 Jahren schätzen: Persönlichkeit, Humor, Ehrlichkeit, gutes Design, Internationalität und Horizonterweiterung.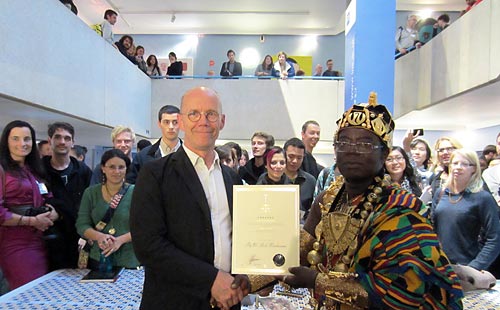 König Bansah und Erik Spiekermann im Treppenhaus der Logan Hall, nach ihrem Bühnenauftritt in auf der TYPO London 2011
Besonders erfreulich ist das erste wegweisende Projekt, das auf der neuen, professionellen Identität des Königs basiert: Die Spendenseite für die König Bansah Schule. Seit der TYPO London sind bereits 5000 € eingegangen, auch viele TYPO-Besucher und FontShop-Mitarbeiter haben gespendet. Noch fehlen 28.000 €, bevor der erste Bauabschnitt starten kann. Im knapp fünfminütigen Film auf der Spendenseite erläutert der engagierte König das persönlich gefärbte Projekt.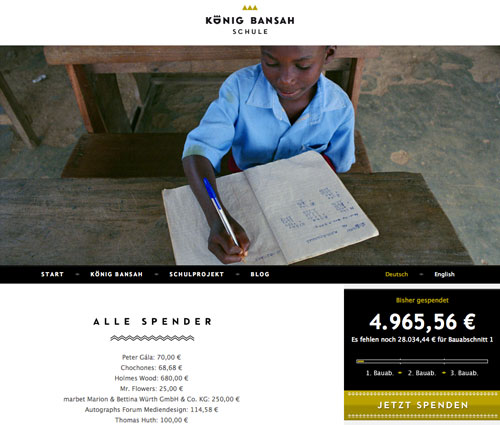 Auch Schönschrift und Typografie sollen hier gelehrt werden. Für den ersten Bauabschnitt werden weitere Spenden benötigt.
TYPO Berlin und London möchten dieses Schulprojekt für die 200.000 Menschen umfassenden Gruppe der Hohoe im Osten Ghanas im Auge behalten und bekannter machen … über den Kreis der TYPO hinaus. Wir bitten alle, die diesen Beitrag lesen und vielleicht schon gespendet haben: Weitersagen!
Wer nicht in den Genuss Liveauftritte auf der TYPO Berlin und der TYPO London gekommen ist – oder diesen emotionalen Konferenzhöhepunkt erneut erleben möchte: Seit kurzem steht das Video des Auftritts von König Bansah, Julian Zimmermann und Erik Spiekermann auf dem TYPO-Portal bereit. Anschließend eine kleine Spende?
A young boy grew up in a small village in Ghana who liked to work on cars and dreamed of owning his own company. His name was Céphas Bansah. His grandfather, the king of Hohoe Ghana, helped him fulfil that dream and sent him to Ludwigshafen in Germany, where he soon earned two master craftsman trade licenses and has, for the last 30 years, owned and operated an auto repair shop. Céphas Bansah started a family and lived a content and happy life until a fax from Ghana changed his simple existence forever. His grandfather had died and the tribal elders had chosen him as the new king. Bansah took on the office of king as his new life's work. He quickly recognised that the only way to help his people improve their lives was to realise aid projects in Ghana with effective media exposure. The result was bridges, schools, clinics and much more. King Bansah is a monarch who wears his office with dignity. But he has no problem appearing on television in entertainment shows. He is a quick-witted, spirited, funny king who captures the hearts of an audience with his distinctive charm – all in the service of improving the lot of his people in Ghana.